Study at one of the top universities in the USA or Canada!
AECC Global Nepal is hosting an exclusive event -  USA & Canada Virtual Open Day on October 10 & 11, 2022, from 9:30 AM to 11:30 AM. You can get all the information on upcoming intake requirements, courses available, costs of studying in the USA & Canada, visa updates, scholarship details and more.
Why attend the USA & Canada Virtual Open Day?
Personalized guidance from the top universities from the USA & Canada.

Know all that you need to know about courses, scholarships, intakes, accommodations, and more.

Get the latest visa updates.

Interact one-on-one with the representatives for any personalised questions regarding financing options.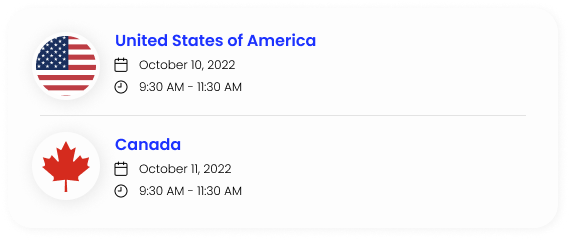 Participating Universities
We at AECC Global provide our students with the right information backed by our expert counsellors' knowledge and believe in providing constant support through every step of the way, to make their study abroad journey as seamless as possible.
Our award-winning team of registered migration agents and PIER-certified education consultants have helped over 45,000 students from over 40 nationalities successfully study with top universities and education providers worldwide.
UniSessions © 2022 AECC Global.